30th Christmas at the Cathedral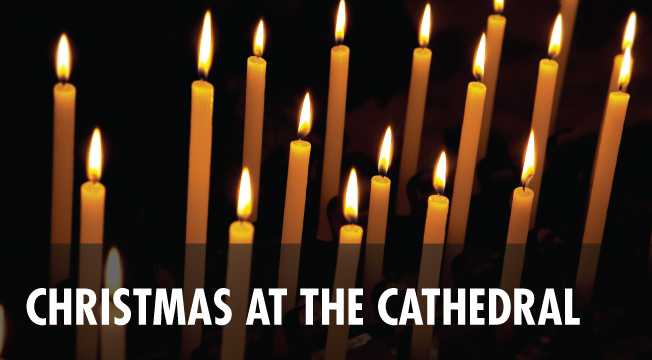 Saturday, December 2, 2017 Noon (Dress Rehearsal) and 8 pm
Sunday, December 3, 2017 2:30 pm and 7:30 pm

Note: Premium seats for December 3 at 2:30pm are sold out, but Regular seats are still available!
We still have Premium seats available for all other performances as well, except as noted the 2:30pm.
Celebrating 30 years of Christmas at the Cathedral
Featuring:
ChoralArt Singers
Portland Brass Quintet
Christopher Pelonzi, organist
Director's Notes, Robert Russell: Our concerts in December mark the 30th anniversary of Christmas at the Cathedral. Five years ago we commissioned Kevin Siegfried to compose Vidimus Stellam in celebration of our 25th Christmas concert. Kevin has added a sixth movement to this beautifully expressive work, scored for brass quintet and mixed chorus, which we invite you to enjoy in the company of our traditional seasonal works and Ola Gjeilo's sublimely beautiful Serenity, a setting of the most widely composed Latin Christmas text, O magnum mysterium (O great mystery that animals should see the Lord born in a manger).
Christmas with ChoralArt: a stellar brass quintet, the resonant sounds of pipe organ, and the glorious voices of the ChoralArt Singers. Many concert patrons say their holiday begins in the first weekend in December with ChoralArt's presentation of Christmas at the Cathedral. Sublime singing, a candlelit Silent Night, the roar of Widor's Toccata from Cathedral organist Christopher Pelonzi, and your opportunity to sing seasonal carols with the ChoralArt Singers. Come, join us!
Program Notes for Christmas at the Cathedral
Location
Cathedral of the Immaculate Conception - 307 Congress St., Portland, ME 04101
Additional Ticket Information
Adult
In Advance: Premium $37 / Regular $25
At Door, if available: Premium $42 / Regular $30
Student
In Advance: Premium $15 / Regular $10
At Door, if available: Premium $20 / Regular $15
Kids 12 & Under: Free (Ticket reservation required)
Dec. 2, Noon Dress Rehearsal tickets* (general seating): Adult $15, Students $5, Kids 12 and Under Free
*A $2 fee per ticket is applied to advance ticket purchases at checkout, online and phone – we do this as a nonprofit to offset our fees to the ticketing platform. Advance ticketing sales end 8 hours prior to performance, after that, tickets may be purchased for the "at door" rates, when available.
Box Office Hours (orders by phone): Monday-Friday 10am-5pm, excluding bank holidays, fee applies to all online/phone orders.