Christmas at the Cathedral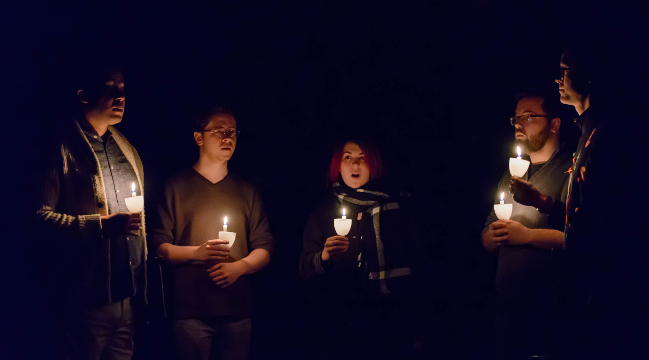 Saturday, December 1, 2018 Noon (Preview) and 7:30 pm
Sunday, December 2, 2018 2:30 pm* and 7:30 pm
Featuring:
ChoralArt Singers
Portland Brass Quintet
Christopher Pelonzi, organist
Director's Notes, Robert Russell: The sun rises in the east, and Christmas at the Cathedral for the past 30 years happens the first weekend in December. Join us for a program of familiar and sublime choral music with brass and organ accompaniment. Of special interest: Paul Halley's dynamic "Freedom Trilogy," Eric Whitacre's luminous "Lux Aurumque," and a glorious setting with brass and organ of the final movement of Vaughan Williams' Hodie, set to John Milton's poem "Ring Out, Ye Crystal Spheres."
Location
Cathedral of the Immaculate Conception - 307 Congress St, Portland, ME 04101
Additional Ticket Information
Adult
In Advance: Premium $37 / Regular $25
At Door, if available: Premium $42 / Regular $30
Student
In Advance: Premium $15 / Regular $10
At Door, if available: Premium $20 / Regular $15
Kids 12 & Under: Free (Ticket reservation required)
Dec. 1, Noon Dress Rehearsal tickets (general seating): Adult $15, Students $5, Kids 12 and Under Free
Premium seating is the first 15 pews of the Sanctuary.
*There are no more Premium Seats available for the Sunday, December 2, 2:30 PM performance. There is still ample General Seating for this performance.
**A $2 fee per ticket is applied to advance ticket purchases at checkout, online and phone – we do this as a nonprofit to offset our fees to the ticketing platform. Advance ticketing sales end 8 hours prior to performance, after that, tickets may be purchased for the "at door" rates, when available.
Box Office Hours (orders by phone): Monday-Friday 9am-5pm, fee applies to all online/phone orders. Box office is closed on all federal holidays.