SpringSong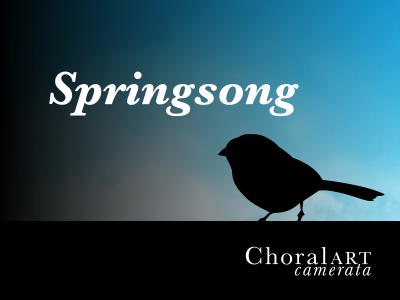 Sunday, May 7, 2017, 4:00 pm
Tickets*:
Adult – $20
Student – $10
Kids 12 & Under: Free
Featuring:
ChoralArt Camerata
Director's Notes, Robert Russell: ChoralArt Camerata concludes the season with a program featuring Mozart's Vesperae Solennes de Confessore, K. 339, a stunning six-movement work setting texts from the traditional Gregorian Vespers service. Guest pianist Amanda Raymond will accompany the fifteen voices of the Camerata. The second half of the program features modern works revolving around an ancient theme: Earth, Air, Fire and Water. The centerpiece of the modern programming is Eric Whitacre's Leonardo Dreams of His Flying Machine, a choral work that dramatizes Leonardo da Vinci's speculation about the possibility of human flight, three centuries before the Wright brothers at Kitty Hawk. It is a stunning work that music director Robert Russell believes to be the best American a cappella composition of the new millennium.
Location
Williston-Immanuel United Church - 156 High St, Portland, ME 04101
Additional Ticket Information
*A $2 fee per ticket is applied to advance ticket purchases at checkout – we do this as a nonprofit to offset our fees to the ticketing platform. Tickets may be purchased at the door, when available, for the advance price +$5.