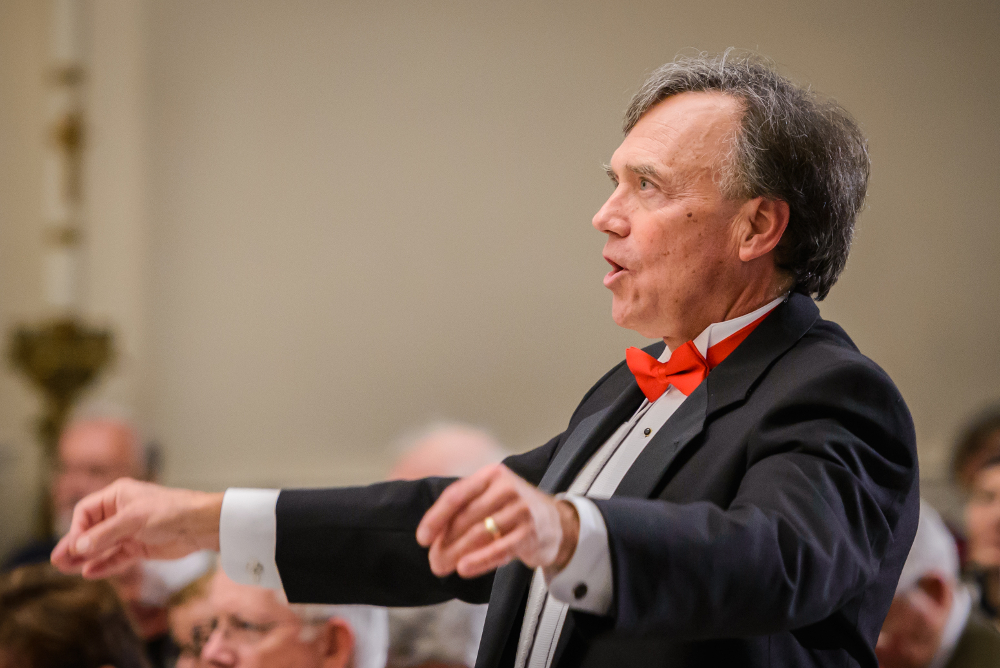 Music Director Dr. Robert Russell
Dr. Robert Russell cannot remember a time when he did not sing. The Baptist tradition in Roanoke, Virginia during his formative years offered singing instruction in choirs for children as early as first grade; the teen choir sang once a week, every Sunday night, summers included! A full-time minister of music, supported by a part-time organist, led a rigorous program. Bob started piano lessons in second grade, and the combination of those lessons plus the numerous opportunities to perform in church as a singer, pianist and conductor laid the groundwork for a career as a musician.
At Wake Forest University Bob sampled music, math, and physics before choosing religion as a major. He conducted church choirs throughout his undergraduate years. At the University of North Carolina he studied with Dr. Lara Hoggard, an associate of Fred Waring and one of the pioneers in choral singing in America. From Dr. Hoggard he learned the choral art: the technique of forming volunteer singers into a cohesive and artistic unit. Further graduate study at the University of Colorado with Dr. Lynn Whitten in choral literature and performance and Dr. Barbara Doscher in vocal pedagogy prepared him for a career as a choral conductor and teacher of choral-vocal pedagogy. Dr. Russell is indebted to inspiring teachers throughout his career, including his post-graduate study with Robert Shaw, Helmut Rilling, and Elmer Iseler.
Bob came to Portland in 1979 as professor of music at the University of Southern Maine and music director of ChoralArt. He concluded a 36-year tenure at USM in 2015 and was named professor emeritus. His time in Portland has been rich, the highlights many. ChoralArt has presented numerous concerts with orchestra, many under the auspices of the Portland Symphony Orchestra. The first Messiah performance in 1982 stunned us all, as we filled City Hall Auditorium (Merrill's predecessor) with patrons and glorious music. Other notable performances include Verdi's Requiem, Mahler's Symphony No. 2, Bach's Mass in B Minor, Bach's Passion According to St. John, Mendelssohn's Elijah, and the Brahms Requiem several times, including a riveting performance in 1991 with distinguished guest conductor Robert Shaw. Several collaborative concerts with Portland Ballet, including a dynamic Carmina Burana in 2003, as well as concerts with Friends of the Kotzschmar Organ, Southern Maine Symphony Orchestra, USM Wind Ensemble, Musica de Filia and many other regional organization stand out.
His work as music educator—at USM, as guest musician for festival choruses, and as clinician with individual high school choruses—has been deeply satisfying. He has conducted more than 75 festival choruses, including All-State choruses in Maine, Vermont, New Hampshire, Rhode Island, and Massachusetts. He led the USM Chamber Singers on six European tours, and the sights and sounds of those tours will remain indelibly etched in his memory. There is nothing quite to compare with the sounds of a well-tuned a cappella ensemble, singing for 10 days in glorious acoustics.
In retirement Bob resides in Portland and lives and travels with his wife Linda, a pianist and author of numerous program notes for his choral concerts. He continues as Music Director of ChoralArt and welcomes invitations to work with your choir.